How To Make Breakfast Bundles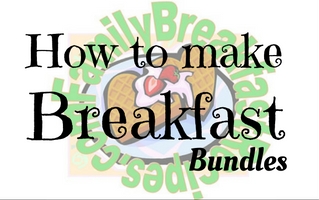 How To Make Breakfast Bundles
Ingredients
1/2 cup butter or margarine, softened
2 tablespoons orange juice concentrate
1 egg, lightly beaten
1 1/2 cups all-purpose flour
2/3 cup sugar
1/2 cup Grape-Nuts cereal
1 teaspoon baking powder
1/2 pound sliced bacon, cooked and crumbled
Instructions
In a mixing bowl, beat butter and orange juice. Add egg; mix well.
Combine flour, sugar, cereal and baking powder; stir into butter mixture. Fold in bacon.
Drop by rounded teaspoonfuls onto ungreased baking sheets.
Bake at 350 degrees F for 11-13 minutes or until edges are lightly brown.
Store in the refrigerator.
http://familybreakfastrecipes.com/how-to-make-breakfast-bundles/
Free printables and updates
Subscribe to get your free recipe cards and binder printables and our latest updates by email.
We hope you are enjoying your recipe cards and cookbook starter pack.
Share