How To Make Camper's Breakfast Hash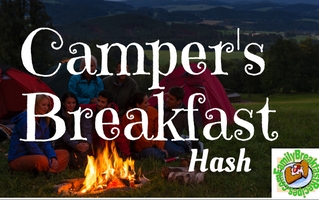 Ingredients
1/4 cup butter, cubed
2 (20 ounce) packages refrigerated shredded hash brown potatoes
1 (8 ounce) package brown and serve sausage links, cut into 1/2 inch pieces
1/4 cup chopped onion
1/4 cup chopped green pepper
12 eggs, lightly beaten
salt and pepper to taste
1 cup shredded Cheddar cheese
Directions
In a large skillet, melt butter. Add the potatoes, sausage, onion and green pepper. Cook, uncovered, over medium heat for 10-15 minutes or until potatoes are lightly browned, turning once.
Push potato mixture to the sides of pan. Pour eggs into center of pan. Cook and stir over medium heat until eggs are completely set. Season with salt and pepper. Reduce heat; stir eggs into potato mixture. Top with cheese; cover and cook for 1-2 minutes or until cheese is melted.
Free printables and updates
Subscribe to get your free recipe cards and binder printables and our latest updates by email.
We hope you are enjoying your recipe cards and cookbook starter pack.
Share