How To Make Campfire Skillet Breakfast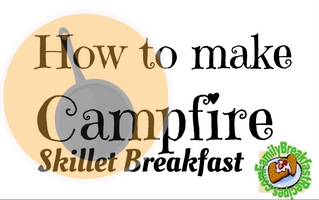 Ingredients
1/2 pound sliced bacon
4 cups potatoes, peeled and cubed
1/2 onion, chopped (optional)
6 eggs, beaten
1 cup shredded Cheddar cheese
Directions
Cook bacon to desired doneness in a cast iron skillet over the slow burning coals of a campfire. Remove bacon from the skillet and set aside. Stir the potatoes and onion into the hot bacon fat. Cover, and cook until the potatoes are soft, about 10 to 12 minutes.
Crumble the bacon into the potatoes. Stir in the eggs, cover, and cook until set through, about 2 minutes. Sprinkle with the cheese, and allow to melt before serving.
Free printables and updates
Subscribe to get your free recipe cards and binder printables and our latest updates by email.
We hope you are enjoying your recipe cards and cookbook starter pack.
Share